On 5th December the traditional Sand Nativity in Lignano Sabbiadoro comes back: exhibition of sand sculptures just a few minutes from Bibione, which in 2020 reaches its 17th edition.
From 5th December 2020 to 31st January 2021 in the tent structure in front of the Beach Office n. 5 (Pescecane) in via Lungomare Trieste 5 (near the tunnel that leads to Terrazza a Mare) it will be possible to see the works of the various professionals in sand processing in an exhibition that every year welcomes thousands visitors coming from all over Europe.
Days and opening hours are as follows:
Full time from 10 am to 6 pm:
December: 5, 6, 7 and 8, 12 and 13, from 19 to 31
January: from 1 to 6, on 10, 17, 24 and 31.
Only afternoon from 2 to 6 pm:
December: 9, 10 and 11, from 14 to 18
January: on 9, 16, 23 and 30.
The event, which entrance is with free donation, is organized by the Association Dome Aghe e Savalon d'Aur, in collaboration with Pro Loco Lignano, Lignano in Fiore Onlus, Lignano Sabbiadoro Gestioni, with the support of the City of Lignano Sabbiadoro and the contribution – fundamental – of the local associations. It is inserted in the frame of the celebrations of "Natale d'A…Mare" of the Friulian seaside resort.
N.B. Due to the ongoing health emergency, probably for the first period the visit to the Nativity scene can only be carried out virtually. The organizers are working hard on the possibility of a virtual guided tour (remotely) with visual effects and games of images, to be able to look closely at the sand installations as had never happened in the past. For all updates: https://www.facebook.com/presepelignano/ and http://www.presepelignano.it
The valiant artists and professionals of the sand are already working since October to realize real sculptures without the use of glues or other similar materials for the maintenance: they use only sand, water and their great skill. The theme for 2020 is "Care, hope, love": the path starts with birth, which is the symbol par excellence of hope, a promise of life regenerated by love and a new sense of solidarity, which at the same time teaches that only if we "take care" of the other, we can save ourselves, understood as individuals, as a collectivity, as a gender.
Appointment then in Lignano to admire a valuable work, which will leave you with an open mouth!
Photocredit: Associazione Dome Aghe e Savalon d'Aur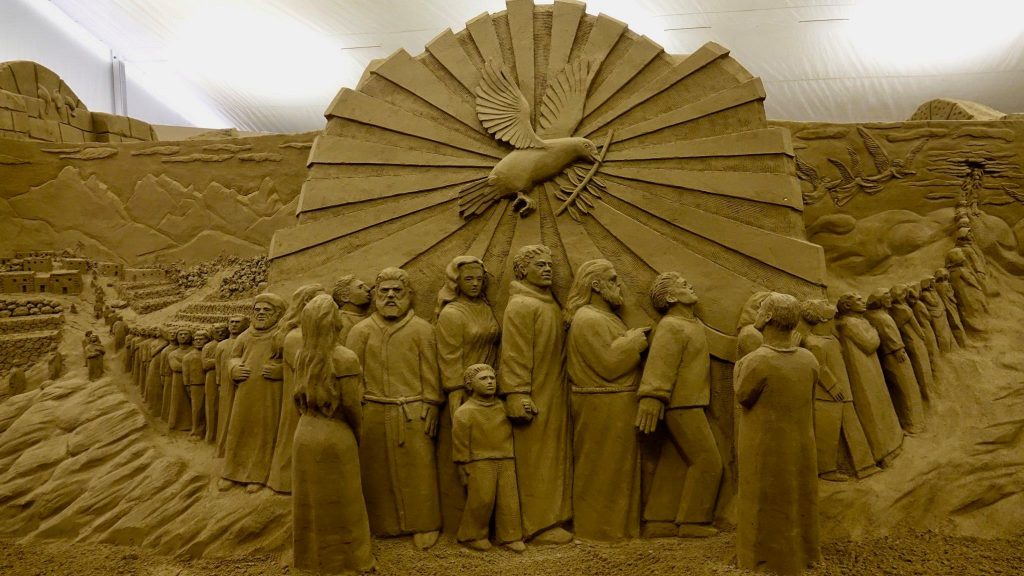 When: December, 5 - January, 31