Emil Zátopek, Czechoslovakian middle-distance runner and marathon runner, Olympic gold medalist, said: "Essentially, we distinguish ourselves from the rest. If you want to win something, run the 100 meters. If you want to experience something, run a marathon." Our seaside resort will give you this opportunity: on Sunday, 12th September 2021, there will be again the Bibione Half Marathon!
After the stop in 2020, the competitive national race comes in 2021 in its 5th edition; it will be held on an asphalted and dirt road route closed to traffic and it is organized by RUNNING FACTORY A.S.D. on a distance of 21.097 km, both for men and for women. Departure and arrival will be from Piazzale Zenith, with the race path homologated for FIDAL (the Italian Athletics Federation). Admitted female and male categories will be:
Junior
Promises
Senior
Senior Master
Here is the detailed program:
Saturday, 11th September

10 am-10 pm – Opening of the Village at Piazzale Zenith
3 pm – Kids Run: Kids Run: race for children
7 pm – Departure of "Bibione Fun – 10K" / non-competitive race of about 10 km / max 850 participants
Sunday, 12th September

6 am – Opening of the Village
8 am – Departure of "Bibione Half Marathon"
11 am – Awards ceremony
2 pm – the Village will be closed
It will be possible to pick up the bib for Half Marathon/Bibione Fun, the race pack and the Bibione-Fun T-Shirt according to the following timetable:
Saturday, 11th September at the Village in Piazzale Zenith:

from 10 am to 10 pm / Half-Marathon bib's pick up
from 10 am to 6:45 pm / pick up of Fun-10K bib and Bibione-Fun T-shirt

Sunday, 12th September: from 6 to 7:45 am at the Village in Piazzale Zenith
The Village in Piazzale Zenith is confirmed with:
a changing room service with showers
a bags storage area for personal clothing (the organization is not responsible for possible damages and/or theft).
Along the route there will be refreshment and sponges points; on arrival, a refreshment with food and victuals. In the same way, there will be safety and medical assistance points with health care personnel.
The first 10 men and 10 women of the general ranking will be awarded; moreover, the top 5 finishers in each FIDAL Master category will be awarded, and also the first 3 groups with the most classified runners.
Registrations will open on 1st March and will close at 12 am of Thursday, 9th September 2021, or upon reaching 2.000 applications.
For information, services and timetables:
www.bibionehalfmarathon.it
e-mail: info@bibionehalfmarathon.it
Discover the special rates by ABA Viaggi dedicated to the participants!
CLICK HERE to receive your offer!
Booking Centre of the Bibione Hoteliers' Association
Corso del Sole, 2 – 30028 Bibione (VE)
Phone number (+39) 0431 447052
@  rossella@abaviaggi.it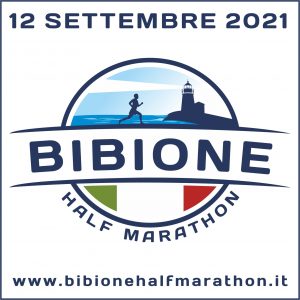 When: September, 12